A while back,
I chipped in some cash
so that the documentary
FrackNation
could be finished. Well, it's finished:
Yup, it's going to be on cable, on AXS TV. I'll DVR it. Should be interesting when compared to
Matt Damon's oil-money-funded
feature drama
Promised Land
.
UPDATE: And they've upped the ante with respect to
Promised Land
:
Matt Damon called 'liar' by pro-fracking filmmaker
Accompanied by this photo: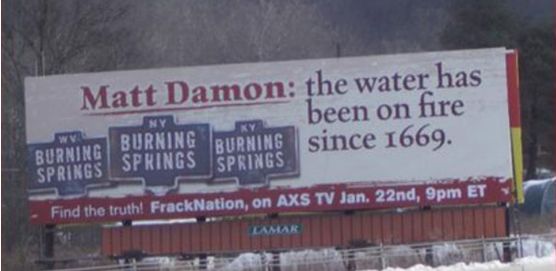 Movieline.com attended on a panel discussion about "Promised Land" featuring Damon and reported that Damon said the movie wasn't political.

"I don't want to call Matt Damon a liar but he's a liar, really," McAleer said. "It's a deeply political movie and it's deeply disingenuous for Matt Damon to say otherwise. … Matt Damon isn't telling the truth."