On Thursday evening I was picked up at the airport by
Sailorcurt
, who was accompanied by
JR
,
Robb
and
Ahab
. We went straight from the airport
to a restaurant
in the 15-passenger van Curt had borrowed from his church. When I got out of the van, I turned around to open the second door to let JR out of the back, and hooked a belt loop on the bug deflector of a pickup truck sitting in the parking slot next to the van, snapping off about a six-inch piece from the driver's side.
Oh well. I picked up the piece and put it on the hood, figuring whoever owned it would come back to the restaurant looking for the group with the van when they found it. Later in the evening, Curt went out to the van for something and saw an obviously agitated couple writing down the information off the side of the church van. When he unlocked the door, the female of the couple came around and informed him that they'd called the police about the damage.
Curt came and got me, I gave them my contact information and told them to send me a bill. When we came back out a half-hour later, they were gone.
This morning I woke up at about 4:30, and then never really did get back to sleep before I finally got up at 6:15. After I showered I was brushing my teeth and I leaned over on the sink, just a little. (I
swear!
)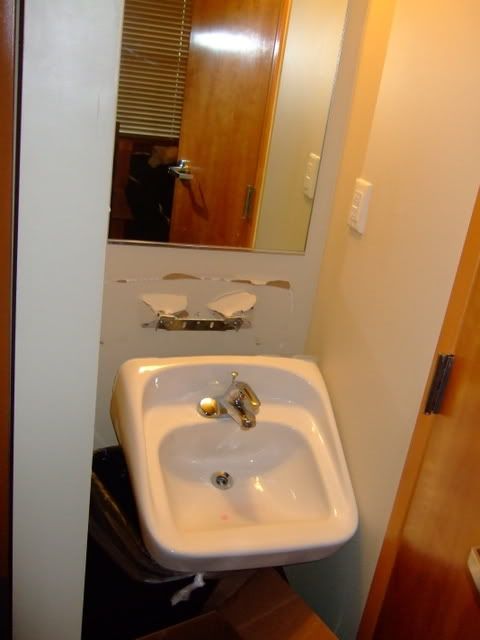 You know, I'm pretty sure that you're not supposed to mount sinks, especially heavy ceramic ones, only with butterfly bolts through the drywall. You're supposed to secure them to, you know,
wood
.
The funny thing was, I went out to the lobby to tell the desk attendant what I'd done, and brought her back to the room to
show
her. She looked at it for a second and said, "Do you need to finish?" I explained that the drain plumbing had snapped off, so running more water through the sink probably wasn't advisable, so she informed me that a shower room was available down the hall where I could find a sink and shave.
I promised not to lean on
that
sink.
I shouldn't be allowed out of my house without a keeper.